Better WiFi is faster WiFi, right? Well, not exactly.
While connection speed is certainly important, delivering quality internet access in large public venues like stadiums and arenas often requires WiFi that is able to handle many concurrent users at the same time. That capability has historically been a challenge for WiFi technology until the latest generation, WiFi 6, was introduced in 2019.
Keep on reading for a high-level discussion on why WiFi 6 is so important high-quality internet access in stadiums and arenas.
What Is WiFi 6?
Remember when your wireless router used to come stamped with a spec such as "802.11b" or "802.11g?" Well, that code used to refer to the WiFi version the router supported. And as you might imagine, both tech professionals and the general public found that old naming system to be pretty confusing. (To wit: '802.11a' was an improvement over '802.11b,' but the next generation went from 'a' to '802.11g?' Obviously, this naming structure was a problem.)
Thankfully, in 2018 the WiFi Alliance decided to rename the WiFi versions from the former "802.11*" nomenclature to the current numbered naming system. In the process, the name for the most recent iteration changed from the former '802.11ax' to 'WiFi 6.'
Comparing WiFi 6 to WiFi 5: How Much Better Is WiFi 6?
As you might expect, each successive version of WiFi from 1-6 has improved upon its predecessor. Up through the release of WiFi 5, the actual improvements each new version brought were primarily in the areas of speed and security. Simply stated: newer routers using the latest WiFi technology were faster and safer than the routers that came before them. But that changed with the release of WiFi6 which included significant improvements in network capacity to go along with the incremental improvements in speed and security.
How Much Faster is WiFi 6?
But let's be clear — WiFi 6 is indeed faster than WiFi 5. The top, theoretical download speed for WiFi 6 is 9.6 Gbps which is almost 3x faster than WiFi 5. But the top-end speed isn't what makes WiFi 6 special. The real benefit of WiFi 6, especially when it comes to large public venues, is its ability to handle many concurrent users simultaneously. This marks a change from previous Wi-Fi standards where high efficiency is the core focus instead of the raw device user throughput.
The Significance of OFDMA
For the non-engineers out there, OFDMA stands for orthogonal frequency division multiple access, a technology that was first deployed in WiFi 6. At a high level, OFDMA "allows multiple users with varying bandwidth needs to be served simultaneously" from an access point. Instead of competing for WiFi bandwidth, concurrent users on a WiFi 6 network are allocated parts of the spectrum in such a way that they don't compete with one another. OFDMA expands the capacity of the network to handle multiple users and their devices simultaneously, increasing both resource utilization and efficiency. This means that more people can access the internet at the same time, and everyone's user experience is vastly improved.
How Secure Is WiFi 6?
Data security is another area where WiFi 6 improves upon its predecessors. WiFi 6 can utilize the new WPA3 certification which features 256 bit AES encryption to protect user data. Previous WiFi technology made do with WPA2 security which has been around since 2004 and has many security vulnerabilities. Furthermore, WiFi 6 enables network administrators the ability to provide additional security measures for open networks such as the new OWA standard that allows user traffic to be encrypted from over the air eavesdropping.
Why Stadiums and Arenas Need WiFi 6
While 2021 was a blip in the trend due to restrictions on crowd size due to COVID-19, internet usage over WiFi by fans at sporting events is growing according to Stadium Tech Report. There's perhaps no better evidence of this trend than looking at the data usage of Super Bowl attendees from the last three Super Bowls (excluding 2021).
As the data show, more users are accessing WiFi at large public events (see the 20% increase in the "take rate" from SB 52 to SB 54), and those users are doing more while connected to the WiFi (over the same period, data usage per user rose 46% to a whopping 595.6 MB per user for the duration of their stadium experience). Increasingly, sports fans, amusement park guests, and anyone else that attends large-scale public gatherings expect to have access to stable, secure, and fast internet via WiFi.
Notable Stadiums and Arenas with WiFi 6
Ohio State Stadium – Columbus, OH
Gaylord Family Oklahoma Memorial Stadium – Norman, OK
Lucas Oil Stadium – Indianapolis, IN
BBVA Stadium – Houston, TX
West Texas A&M Buffalo Stadium – Canyon, TX
Atlantic Union Bank Center (James Madison University) – Harrisonburg, VA
SoFi Stadium – Inglewood, CA
Nissan Stadium – Nashville, TN
Coors Field – Denver, CO
Chase Center – San Francisco, CA
Additionally, 16 Major League Baseball stadiums have announced they will upgrade to WiFi 6 along with a number of NFL stadiums, too.
---
What Are People Doing With All that Data?
The astronomical rise of in-stadium data usage begs the question: what are people doing with all the data? Not surprisingly, the two biggest uses of data are using social media and chatting/messaging with friends — two activities that are practically required during the big game.
Plenty of sports fans are also accessing their various sports apps for fantasy league updates, game scores, and other related content. Now, fans in certain markets are even using the in-stadium WiFi connection to check in on their sports betting wagers, trying to see how they're doing in real-time.
What Venues Should Be Worrying About
Athletic departments and professional sports organizations have long focused on putting the best product they could onto the field. Build a great team, win a lot of games, and the stadium fan experience will take care of itself, or so they thought. But these days, the people that put on live sporting events are increasingly competing against the much-improved home viewing experience in a surprisingly contentious battle to get fans off of the couch and into the stadium.
Stadiums Are Competing Against the Home Viewing Experience
Even before the pandemic, there has been a disturbing trend of dropping attendance at live sporting events. With the widespread adoption of high-quality HD TVs, watching the game from the comfort of your own home is better than ever before. The better technology combined with the ever-rising game day costs (parking, food, etc), means that more people are choosing to watch from home.
But there's another aspect of home viewing that causes many folks to prefer watching the game from their couch instead of the stadium seat — the ease of access to the second screen.
Home Viewing Often Includes a "Second Screen"
Home audiences — whether they were watching television, a movie, or even reading a book — used to access just one medium at a time. In other words, most people didn't sit down to both watch a television show and read a book at the same time; you either did one or the other, but not both.
However, thanks to the amazing improvements to mobile devices along with much faster internet speeds, "second screening" has become the norm for TV viewers at home. This term refers to the phenomenon of tv viewers multi-tasking with multiple devices — an example would be scrolling through your Facebook feed on your phone while streaming a Netflix show on your television or laptop.
For these second screeners, a mobile phone is the most common secondary device among all age groups. Not surprisingly, using a phone for your second screen is more prevalent the younger you go, with Gen Z and Millennial viewers most likely to use their smartphone over devices such as a laptop, notepad, or home computer.
Of course, at the stadium, the only widely available second screen will be each attendee's mobile phone.
---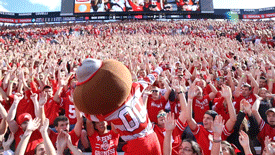 The More You Know…
The record for in-stadium data usage during a single sporting event was set at Ohio Stadium in Columbus for the Ohio State vs. Michigan State game back in October 2019. The fans in the stadium used an amazing 25.6 TB of data that day, a record that still stands. It's no surprise that OSU was an early adopter of WiFi 6 technology, spending $10.5 million to install it in Ohio Stadium in August 2019, just in time for this Big10 matchup less than 2 months later.
---
People Want the Second Screen Everywhere, Including at the Stadium
As this second screen trend continues to build, it's becoming increasingly apparent that people want access to that second screen everywhere. And the things they want to do with the second screen device — scroll and post on their social media apps, chat and message with their friends, and access any number of other websites and other apps — typically require lots of data. And for that, you're going to need a WiFi network.
The challenge of enabling people to access their second screens (via super-fast WiFi) isn't unique to stadiums and arenas. These days, people want their second screens everywhere — the grocery store, the gym, even at church. The facilities that stay ahead of the curve on WiFi access will ensure that at least one aspect of the visitor experience will be top-notch. Too bad speedy WiFi won't help a lack of speed on the playing field, however.